Great rates and convenient service
At Wheelz and Wheelz we understand that the finance for your next car is as important as the purchase itself. That's why we have teamed up with the experts at Finance King to assist you in obtaining the best and most suitable finance package for your circumstances.
You can apply online, phone or vist Finance King to get an approval before you even decide on the car. Your approval with Finance King will be "portable" to enable you to shop around.
Finance King offer loans to suit all circumstances:
Dealer sales
Private Sales
Great interest rates
Business use Loans
Lo Doc or no financials required
No deposit
Past credit problems are ok including past bankruptcy
New arrivals are ok ( subject to visa)
Pensions ok subject to credit laws
Easy approvals
Get on line, phone or visit and Finance King will do the rest.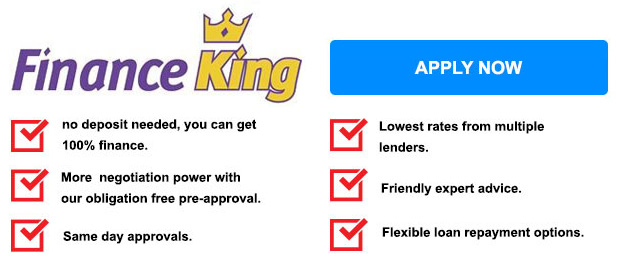 Calculate your repayments
Disclaimer: This calculator tool is provided for estimation purposes and should not be taken as an official loan application or offer of a loan. Actual repayment amounts can depend on different factors and repayment frequency options may not always be available. We recommend you contact our finance team to learn more about available rates and options based on your circumstances.